History
The recently expanded Cowan Pottery Museum is located primarily on the first floor of Rocky River Public Library (renovated in 2006-2007). It features over 1200 pieces of a distinctive form of American art pottery created by R. Guy Cowan and his associates at the Cowan Pottery Studio in Lakewood, Ohio from 1913-1917, and in Rocky River, Ohio from 1920-1931.
The Cowan Pottery Museum was one of the nation's leading potteries during the 1920s and the Cleveland area's only major pottery. Cowan Pottery represents a visual cultural heritage unique to Rocky River and Cleveland.
Appraisals:
The library does not provide evaluations or appraisals for insurance, estate, or sales purposes. Please consult the following resources.
June 2021
HistoryTALKS
The Story of Cleveland Metroparks Zoo | Monday, June 28
Judy MacKeigan, Historian/Archivist for the Cleveland Metro Parks, will share how The Cleveland Metroparks Zoo began life as a small deer park in Wade Circle and grew to become one of the most respected zoos in the world.
7:00-8:00 pm – | Register here
The Cleveland Museum of Art will present how artists from ancient times to the present have used a variety of media to represent canines as status symbols, friends, protective spirits, and eager assistants at the hunt.
7:00-8:00 pm – | Register here
July 2021
Pick up will run from July 25 -31
Join the Cowan Pottery Museum Sketchbook Challenge! Sign-up to receive a sketchbook and drawing pencil. Throughout the month of August be inspired by weekly art prompts. Find the prompts on our Summer Reading page (coming soon), or shared every Thursday on the Library's social media accounts.  → Register
August 2021
Cowan Symposium: Virtual
August 11 to 14 | Registration required
Billy Ritter | Wednesday, August 11
Billy Ritter will discuss how they started their businesses and the challenges and rewards of ceramic production art.
7:00 to 8:00 pm  |  → Register here
Angelica Pozo | Thursday, August 12
Artist Angelica Pozo will discuss their work and practice, including her many Cleveland-area public and community projects.
7:00 to 8:00 pm |  → Register here
Waylande Gregory & Cowan Pottery Studio | Friday, August 13
Curator Greg Hatch will re-present this lecture on the lasting effect Gregory's time at Cowan had on his career.
7:00 to 8:00 pm |  → Register here
Antiques River-Show | Saturday, August 14
Appraiser Andrew Richmond will share information on antiques from our area.
11:00 to 12:00 pm |  → Register here
Interested in learning more information about one of your antiques and having it featured in this program?
Submit a photograph along with a short (200 words or less) description of the item to by July 31, with the subject line "Antiques River-Show." (Limit: 1 object per entry.) Ten objects chosen at random will be examined and featured during the live presentation. Chosen participants are required to submit 4 additional photos of alternative views of the object.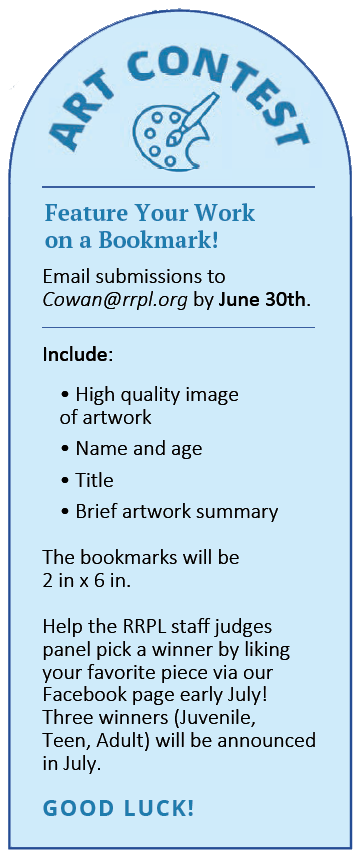 Rocky River Public Library and the Cowan Pottery Museum are looking for our inaugural Cowan Featured Artist. Selected artists will receive a $200 honorarium at the completion of the project. Artists will be selected by members of the RRPL staff and will be notified by June 7. Submission Deadline: May 31.
Click here for additional details.
Cowan Pottery Museum Exhibits On View Now!
Two virtual exhibitions of items from our archives:
Cowan Style: The Photos that Sold Cowan Pottery
The Studio on Lake: Cowan Pottery Studio in Rocky River