Print your 3D dimensional objects at Rocky River Public Library.
Rocky River Public Library is pleased to offer 3D printing to the public. Our Lulzbot 3D Printer is a machine that prints 3-dimensional objects using PLA filament. Please submit your STL files to with your library card number and color preference. At this time, only trained RRPL staff are able to directly handle the 3D printer.
Please only submit one project for printing at a time. RRPL staff will evaluate the project upon submission to make sure it follows our policy, has no obvious indications that it will fail during printing, and discuss any concerns needed.
We are unable to troubleshoot problematic files or give instructions on creating files at this time. However, online learning resources, such as LinkedIn Learning for Libraries, can be used to offer instruction for files for 3D printing. Other useful resources include Thingiverse where you can browse already created designs or Tinkercad where you can create or edit designs.
RRPL staff will weigh your final print and add the bill ($0.05/gram) to your library account. You can pay this bill online or in person at the circulation desk with cash or a credit card. All projects can be picked up in the Public Computer Room. The project must be picked up with your library card or valid ID within one week of printing. Parents and guardians of minors may pick up projects for those under their care.
Quick Reference
File types accepted: STL
Software used: Cura
Cost: $0.05/gram
Maximum size accepted: 160 mm x 160 mm x 180 mm
Bill: Added to your library account, payable online or at the circulation desk via cash or credit card
Ready to submit?
RRPL staff will contact you within 3 days with a cost estimate and expected completion date
After you approve the cost, we will schedule your project for printing
Pay for and pick up your project within 7 days of completion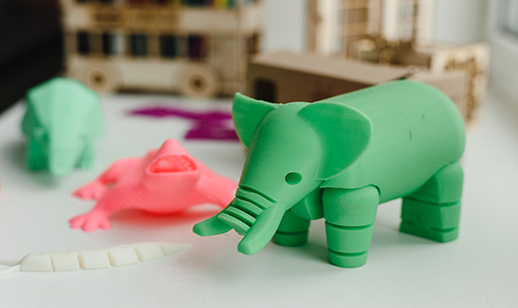 Contact Us:
Follow Us: