PaperCut: Print, Copy, Fax, Scan
PaperCut – Registration and Set Up
Register For PaperCut
Use this link to register your library card number in PaperCut.
If this is your first time using PaperCut or you received an "invalid user" error, this will get your account registered.
Log Into PaperCut
Use this link to check your account balances, upload a document for printing, view your transaction history, view recent print jobs, or view any print jobs pending release.
Set Up PaperCut on Your Mobile Device
Use this link for quick information on setting up PaperCut on your smartphone, tablet, or laptop.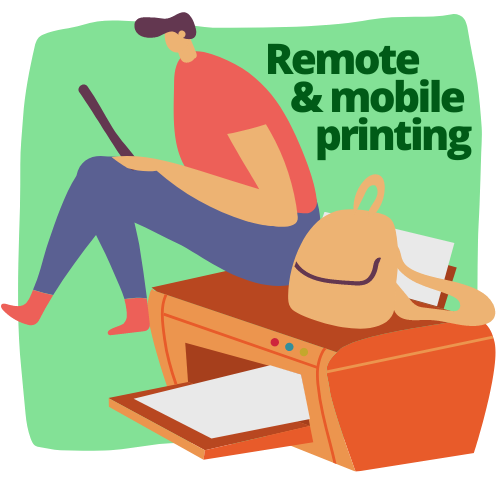 What is PaperCut?
PaperCut allows for remote and on-site printing at Rocky River Public Library through the Web, by email or directly from a personal device.
Where are the copiers located?
Copiers are located in the Circulation Area on the Ground Floor, the Public Computer Room on the Lower Level, the Adult Services Area on the First Floor, and the Children's Area on the Second Floor.
All public copiers have the following features:
Release print sent from any library computer
Release print sent from any personal device, such as a laptop, tablet, or phone
Release print sent from any off-site device (via email or web), such as a home computer
Use letter size (8.5" x 11") and legal size (11" x 14") paper
Make copies, including special ID card copies
Scan to email
Scan to USB flash drive
Print from USB flash drive
In addition, faxing is available at the black floor-standing copiers in the Public Computer Room, Circulation, and Adult areas. These copiers are also able to handle ledger size (11" x 17") paper.
How Do You Use PaperCut?
Want to learn more about using PaperCut for remote and mobile printing? See below: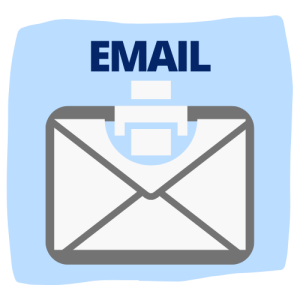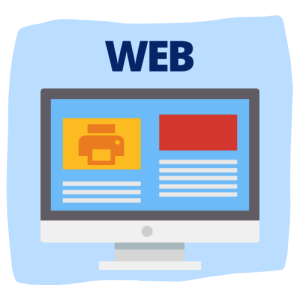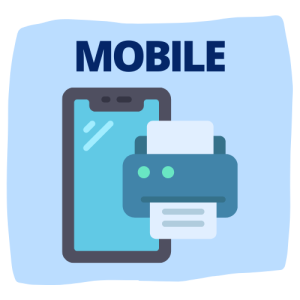 From a library computer:
Log into one of the library's public computers in the Public Computer Room, the Teen Area, or the Children's Area and send a print job to the Black & White or Color printer
From your personal computer, at home or in the library:
Upload to the PaperCut site
Go to the PaperCut site and log in using your PaperCut credentials (usually your library card number and PIN is your PaperCut username and password)
Select Web Print from the menu on the left
Click the green "Submit a Job" button
Enter "rocky" in the search bar and hit enter to find the printers at Rocky River Library
Select the B&W or Color printer associated with Rocky River Library
Click the green "Print Options and Account Selection" button at the bottom right
Input the number of copies you need
Click the green "Upload Documents" button
Click the green "Upload from computer" button in the large white box to add files; you can upload more than one file at the same time

Or you can drag the file(s) into the large white box

Make sure to follow the file format requirements listed on the site
Click the green "Upload and Complete" button in the bottom left
Your print job will be uploaded, which may take several seconds—the status will say "Held in a queue" when finished
This completes the process of uploading a print job via Web Print; see the "How do I release a print job" for your next steps
Email the library printers
Attach your document to an email and use either of the following SEND addresses:
When using email to print for the first time from an email address, you will receive a follow-up verification email to click a link to prove you have access to the account.
After sending the email with attachment for printing, you'll receive an email that says something like, "Your Email to Print job has been received and is being processed."
Click the link in that email to confirm your print job.
This completes the process of sending a print job via email; see the "How do I release a print job" section for your next steps
From your mobile device (smartphone, tablet, laptop) connected to the library's wifi:
iOS

Android

Windows

macOS

Chrome OS
How do I release a print job?
Release any print job from any public copier in the library. Our staff can assist you, but the basic steps are:

Log in to the device with your PaperCut credentials (for most people, this is your library card and PIN)
You will see a list of the print jobs you sent
Select the jobs you want to print
NOTE: Print jobs are stored in the queue for 48 hours, to-the-minute. For example: if you sent your job at 2:00 pm on Sunday, it will be available to release until 2:00 pm on Tuesday; however, it will be deleted after 2:00 pm.
How To Check PaperCut Balances
To check your total available balance for all CLEVNET libraries offering PaperCut
Log into the PaperCut site with your account credentials (typically your library card number and PIN) and view the Balance box on the Summary page, which is the first page you will see.
The PRIMARY account is your paid balance, and the accounts listed by the library are your free balances, which vary by library.
Free balances can only be used within the library where you are doing your printing or copying. They do not transfer across libraries.
Paid balances can be used at any library.
To check your total available balance at Rocky River Library
Log into any public copier and view your account.
This will include any remaining portion of your free balance plus any paid balance you have added to your account.
This amount is only available at Rocky River Library.