Training Services Department
The Computer Training Center offers hands-on computer classes monthly including introductory, Internet, Microsoft Office, Photoshop Elements, Adobe Premiere, Tablet, Smartphone, and other class topics. The Computer Training Center is located on the lower level of the Library.
In addition to the hands-on classes, other special events are offered including the following:
– Computer Breakfast Series is held once a month in the Auditorium of the library.  Enjoy coffee and donuts and learn something new about technology.  The Computer Breakfast Series sessions are recorded at www.Livestream.com/rrpl for the convenience of those unable to attend the presentations in person.
– Senior Lecture Series is held monthly from September to April.  Topics are geared towards the interests of senior citizens.
– Career-Minded Series is held monthly from September to April in the evenings.  Topics are geared towards the interests of those seeking to excel in their current jobs or those exploring new opportunities.
– Travel Series is held monthly from April to September.  Travel experiences and topics are showcased.
– Tablet Tuesday/Tech Coffee Chat is held monthly to offer an informal setting to bring questions regarding mobile devices.
– Online presentations of 10-Minute Tech Tips are recorded on www.Livestream.com/rrpl to give quick technology tips to everyone.  Follow the Department on Facebook to learn when the sessions will take place or view the previously recorded sessions http://www.livestream.com/rrplat the Livestream link.
In addition to the above programs, Tech Tutorial sessions are also offered. The 30-minute sessions can be used to ask questions regarding computers, tablets, smartphones, apps, and more.  Call the Training Department at 440.333.7610 ext. 3754 to schedule a session.
Follow Us:
New Service Available!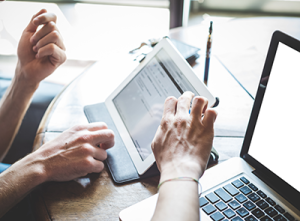 Rocky River Public Library offers Individualized Technology Training.  Our new personalized approach to technical training now extends well beyond the classroom. Just set an appointment, and receive one-on-one assistance from our knowledgeable training staff.
Computer Training

Hands-On Classes