Library Card Sign Up Month – (Old)

Celebrate Library Card Sign Up Month in September and receive a brand new, limited edition library card!
A library card grants you access to a plethora of fun and useful resources. Your library ID, the 14 digit number found on the back of your card, grants you access to all sorts of materials. This includes digital materials found on Hoopla, Kanopy, and OverDrive so you can watch movies, listen to your favorite audiobooks, and download your favorite soundtracks on the go. You will also have access to all sorts of helpful learning tools for picking up a new language, getting creative, or tutoring help. You can view all the digital resources we have to offer by clicking here.
Applying for a new Library Card:
To get a new library card you will need two proofs of address and your photo ID. Although you can be of any age to get a library card, applicants under 18 years of age must be present with their legal guardian to apply. You must be 18 or older to apply online.
Apply for a library card online: Apply Here (Scroll to bottom of page)
Apply for a library card in person: Download Form
Would your child like to get a card, but no parent or guardian is readily available? Then they can get a 3 For Me library card! This card allows children under the age of 18 to easily and immediately get a library card without an adult signature. They are limited to only three books but will not be fined for replacement costs should they lose an item. They may ask a children's librarian for a form or you can download and print one here. All they need is this form and themselves to get a 3 For Me Library card.
Apply for a 3 For Me library card in person: Download Form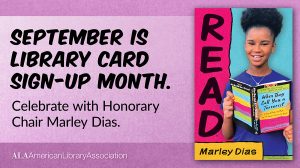 September
The Children's Dept. will have two raffle drawings for new and existing library card holders at the end of the month. The two winners will each receive a copy of Marley Dias Gets It Done and a special container of goodies!
Check out our display and activities on the second floor celebrating ALA's honorary chair, Marley Dias, founder of the #1000BlackGirlBooks campaign.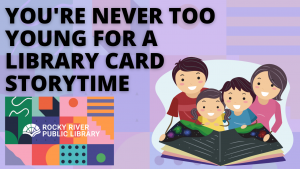 September 13 & 15
You're Never Too Young for a Library Card Storytime
For babies, toddlers, preschoolers & their caregivers, join us for a fun 30-minute storytime with books, songs, and a craft celebrating the value of Libraries and books!
Mon, Sept 13, 9:15 am → Register Here
Mon, Sept 13, 1:30 pm → Register Here
Wed, Sept 15, 1:30 pm → Register Here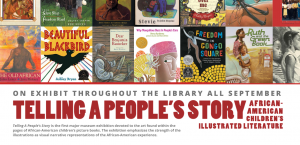 August 29 – September 26
Telling a People's Story: African-American Children's Illustrated Literature Exhibit