Aliens Abducted My Parents and Now I feel Kinda Left Out
during the 47th Annual Cleveland International Film Festival.
Rocky River Public Library is proud to support the film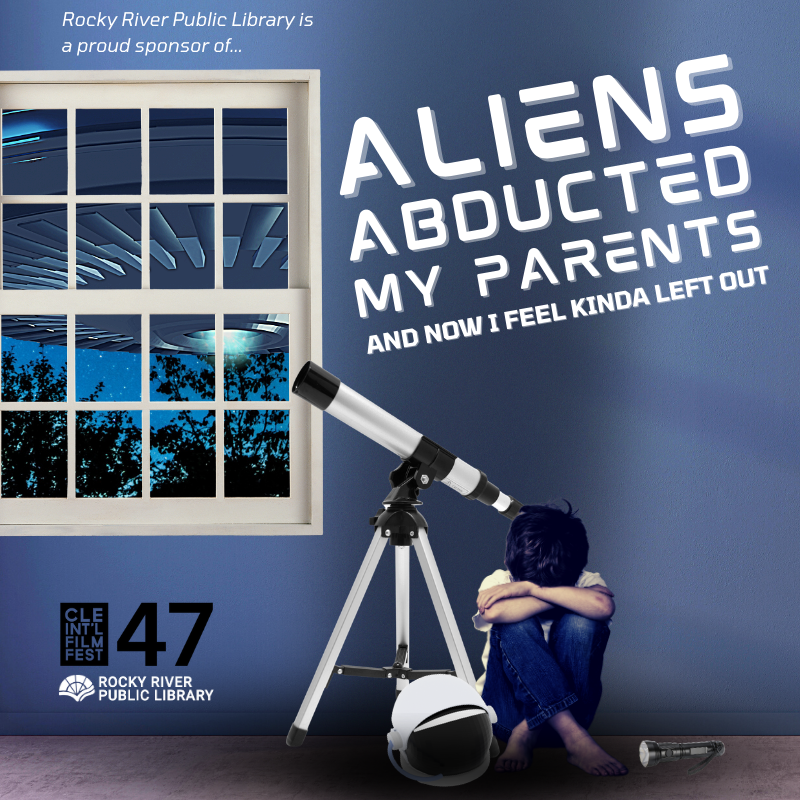 ALIENS ABDUCTED MY PARENTS ANE NOW I FEEL KINDA LEFT OUT | 2023  | Comedy, Family Film | US
Directed by Jake Van Wagoner
After uprooting from the city to small-town Pebble Falls, Itsy's teenage existence is at an all-time low. When she learns about a writing contest that would earn her a journalism internship in New York City, Itsy pursues her odd neighbor, Calvin, as the subject of her piece. Convinced his parents were abducted by aliens, Calvin slowly brings Itsy into his seemingly delusional world of comet chasing and UFO sightings as he awaits his parents' return. But Itsy's investigation takes a sharp turn into the unknown, causing Calvin to question everything he's ever known. A mix of feel-good humor and heartfelt depth, the family-friendly ALIENS ABDUCTED MY PARENTS AND NOW I FEEL KINDA LEFT OUT offers a new, refreshing take on an out-of-this-world, coming-of-age journey. —A.B.
– View Film Details
– View Film Trailer
CIFF47 SCREENINGS
KeyBank State Theater – Directions
Saturday, March 25, 2023 at 2:35 PM
For a list of additional films visit CIFF Online
Discount Code:
Use the code #RRPL while checking out for a $1.00 discount when purchasing tickets to this, and many other, films.
ENTER TO WIN TICKETS!
Enter for your chance to win 2 to 4 tickets to our sponsored film for CIFF!
Raffle ticket entry forms are located on the first floor by Adult Reference and the second floor by Beginner Readers. Raffle ends Wednesday, March 22 for in person entries.
Good Luck!
——————-
Congratulations to klpannunzio for winning two tickets from our Social Media Raffle!