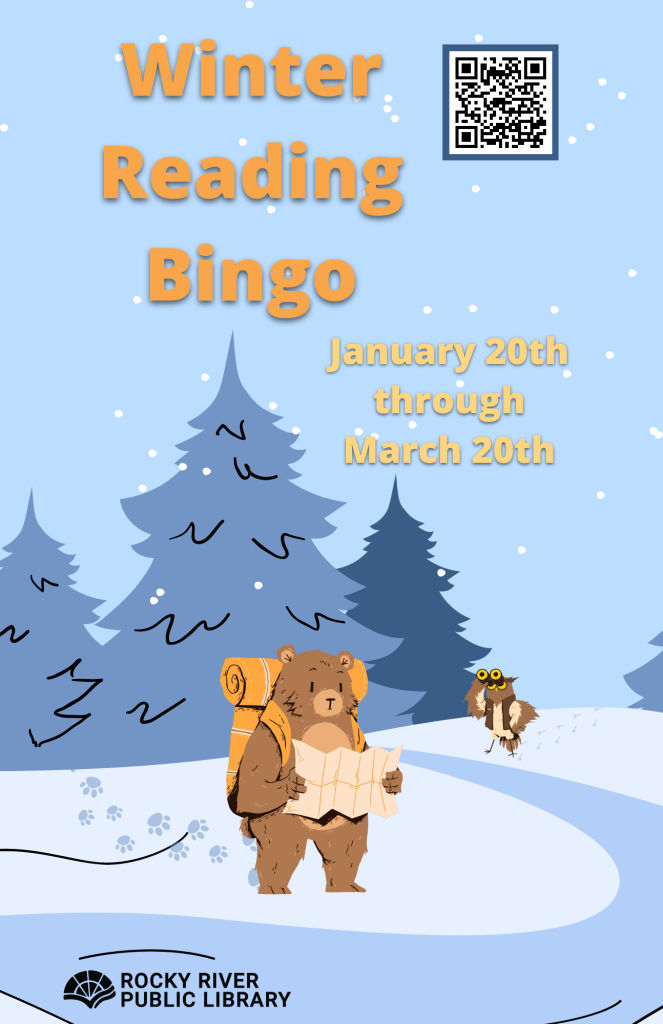 2023 WINTER READING BINGO
JANUARY 20 THROUGH MARCH 20
It's time to gather a blanket, find a comfy chair, and get ready for a winter of reading. You can register and participate online through Beanstack, print out a BINGO card below, or pick up a card in person at the Children's and Adult Reference Desks. Once registered, you may pick up your sign-up gift and then start completing the squares. Each BINGO earns you a raffle ticket to add to one of our drawings, including gift cards to local stores and restaurants that all ages would enjoy. So, read with RRPL this Winter!
How to participate:
For all ages. Complete a BINGO vertically, horizontally, or diagonally to earn a ticket into our Winter Reading Raffle. Each completed BINGO will earn you one raffle ticket into the raffle. We will raffle off prizes at the beginning of April. Log into Beanstack or pick up a BINGO board in the Adult or Children's Department to participate.
Need some help thinking of a book that will complete your BINGO square?
We've got a few suggestions below! You can always ask us for more recommendations – we love sharing books with you!  
Prizes:
Enter for a chance to win a gift card to  Books-A-Million, Crumbl Cookies, Mitchell's Ice Cream, or Starbucks.