2023 Summer Reading Program
All Together Now – For Children
Gather Around For Summer Reading!
Earn prizes just for reading this summer!
Sign up in person, on the Beanstack and keep track of how many minutes you read, log your reading on the paper game board or in Beanstack, and visit the Library to pick up prizes after every 3 hours of reading!
Public computers are available to update your Beanstack accounts and staff members are available for assistance.
Register For Beanstack
June 3rd through July 22nd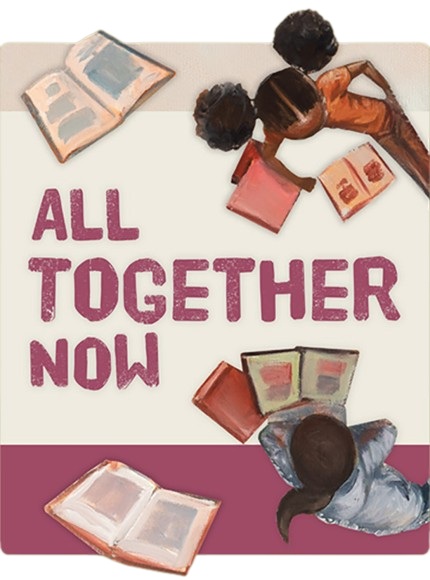 Programs and Events
Winners announced July 31st Participants will create art using Cowan artwork as inspiration. You can help the RRPL staff judges panel pick a winner by liking your favorite piece via our Facebook page in early July! Three winners (Juvenile, Teen, and Adult) will be announced on July 31. Good luck! Email submissions to by July 16.
Please include a high-quality image of the artwork, Name & Age, Title, and a brief artwork summary. The bookmarks will be 2 in x 6 in.   
Gather Around For Summer Reading
Saturday, June 10th, 11:00 to 1:00 pm, Front Lawn
Join us as we start "All Together Now" in our Summer Reading program. Children, Teens, and Adults will be able to sign up in their own age group and spend the summer collecting all kinds of amazing prizes – just for reading and attending programs! And for one day only, we'll have added prizes and games waiting for you on the Library's Front Lawn.
Check out the new Cowan Exhibit and enjoy the work of Thelma Frazier-Winter in her partnership with the Cowan Pottery Studio! Stop by during the Summer Reading Kickoff or visit the Library anytime during our Summer Reading Program to participate in a collaborative community art project. 
My Community Storybook Walk
Submissions are accepted June 4 through 23, 2nd Floor.
Storybook Walk starting July 5
It's your turn to tell the story! Pick up a Story Sheet from the Children's Room, and tell us what "My Community Means to Me." Turn in your submission by June 23 and view our community's artwork on the Storybook Walk in July.
Friday, June 16th, 10:30 am to 3:30 pm, Auditorium Room  
Help save lives this summer by giving blood. Visit redcrossblood.org and enter sponsor code "RockyRiverLibrary" or call 1-800-733-2767 to schedule an appointment.
Mondays, June 26 & July 10,  11:00 to 12:00 pm, Lobby  
Beat the heat and pick up a packet by the front door with directions and supplies to make a cool summer craft. Have fun, be festive, and create at home. All you need is glue or a glue stick. No registration required; available while supplies last.
Stick Together Mystery Mosaic
July 1 through 31, Mezzanine   
Stop by the Children's Department to help create a surprise sticker mosaic picture. Readers who share a title of a favorite book will receive colorful stickers to add to the picture. If we stick together, the mystery image will soon be revealed!
Saturday, July 8th, 10 to 11 am, Auditorium Room or Zoom
Digital Equity is an indicator of a flourishing community. Join us for a discussion about the digital divide, why it matters, and how Rocky River stacks up against the five elements of Digital Equity.
Thursday, July 13, 3:30 to 4:00 pm., Library Lawn
Join us on the Library Lawn to make your own tie-dye! We will supply bandanas for all; families can bring additional items to dye if they wish. Groovy!
Thursdays, July 20, August 3, and August 17, 6:30 to 8:30 pm, Training Room  
Learn how to create captivating presentations and practice public speaking skills in this series of workshops that culminates in an opportunity to show off your work in front of an audience. Participants will attend three workshops to prepare a fun five-minute presentation related to the theme "All Together Now". Registration required.
Thursday, August 31, 6:30-7:30 pm, Auditorium
Just want to be in the audience? Join us for presentation night to see entertaining five-minute presentations on the theme "All Together Now", prepared by workshop attendees. Registration required.
Wednesday, July 26, 6:30 to 7:30 pm, Auditorium
Ann Cicarella, beekeeper and native plant landscape designer, will take you inside the world of a honeybee hive. Learn how bees communicate, their various jobs, and how they make honey. Ann will bring an "observation hive" and we'll have a honey tasting! Ages 6 and up. Registration required.
Saturday, August 5, 2:00 to 4:00 pm, Community Room 
Do you love reading? Bring your favorite book and join your fellow book lovers for an afternoon of snacks and conversation, and leave with a longer TBR list. Registration required.