2022 Summer Reading Program
Oceans of Possibilities – For Adults & Teens
Get rewarded for reading this summer with our Adult Summer Reading Program. For every book you read or activity you complete, you're eligible for a ticket to win one of our themed Summer Reading Baskets. Participate through Beanstack on our website or stop by the Reference Desk. When you sign up, you'll receive a Swedish dishcloth! Public computers are available to update your Beanstack accounts and staff members are available for assistance.
Win Prizes!
Interested in what fabulous prize baskets you might win? Take a sneak peek below! Prize baskets will also be on display behind the Adult Services desk throughout Summer Reading on the Library's main floor.
A Day at the Beach:
Beach reads, a beach towel, a beach tote, and more! 
Local Bubbles:
Gift cards to tour Market Garden Brewery, visit Western Reserve Distillers, Great Lakes Brewery gear and more! 
Water Adventures:
Goodtime III Sightseeing Cruise certificate, Nalu standup paddle and surf lessons gift card, and more! 
Spice It Up:
Cookbooks, assorted spices, and mortar and pestle 
The Bee's Knees:
Bee House, Akron Honey, Rocky River Plant Company gift card, and more! 
Green & Clean:
Little Spark Refill Shop basket filled with unpaper towels, dryer balls, beeswax wraps, and more! 
Rocky River Sweet Treats:
Erie Island Coffee beans, Big Mouth Donut gift card, Wild Flour Bakery gift card, and more! 
Teen Prize baskets are back!
Each basket will have a gift card, candy, and other goodies. The cards: $50 Books a Million, $25 GameStop, $25 Ohio Pie, $25 Starbucks, $25 Dick's Sporting Goods, $25 Chipotle, $25 Visa Gift Card
June 4 through July 23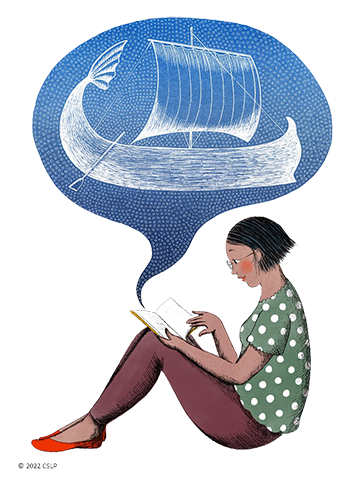 Register For Beanstack
Sign up today, and enter all of your great Summer Reading books into Beanstack for a chance to win prizes.