Friends of Rocky River Public Library

PROGRAMS & EVENTS
No programs at this
current time.
FRIENDS NEWSLETTER / ANNUAL REPORT
Friends Newsletter
2021 – 2022 Annual Report

IN THE NEWS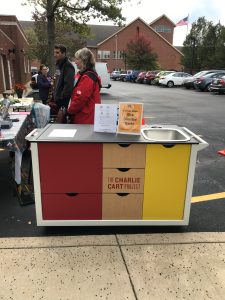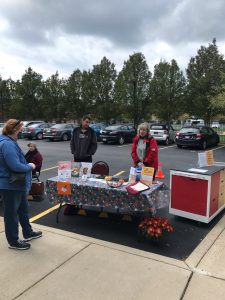 Friends Craig Rimlinger and Peggy Cawley pictured at Fall Fest in October, where they answered questions about National Friends of Libraries Week and the recently purchased Charlie Cart.
Friends' President Sharon Fruchey pictured with Marta Rego of Lake Road Market, drawing the name of the winner of a $100 Lake Road Market gift card for National Friends of Libraries Week.
FOLLOW US:
FRIENDS OF THE ROCKY RIVER PUBLIC LIBRARY, INC GOVERNING BOARD
If you are interested in volunteering for a board position, committee, or assisting with any of our events, please contact the
Library Administration Department at 440-333- 7610 for additional information.
2022-2023
ELECTED OFFICERS:
President
Vice President
Treasurer
Recording Secretary
Membership Manager
Members at Large
Kate Leslie
John Hill
Craig Rimlinger
Patty McKenna
OPEN
Noreen Vokic, Roberta Trutko
COMMITTEES:
Corporate Sponsorship
Event Support
Marketing / Media Outreach
Sarah Siebert
Jenny Dieringer
Nate Louis
LIBRARY STAFF
Interim Director
Administrative Specialist
Trent Ross
Krista Carte
MEMBERSHIP

With your membership, you can help:
Sponsor the library's adult program series
Provide storytellers, crafts, activities, and summer reading programs to children
Keep teens involved through programs and the Teen Advisory Board
Get a free Mitchell's Ice Cream scoop certificate at the Greeter's desk in the lobby when you join (or renew) your Friends membership.
The Friends meet the second Tuesday each month, with the Annual Meeting being held in June.  All members are welcome to join the meetings at the library.
Please call the library for time, library location, and any changes at (440) 333-7610.