ABOUT
The Friends of the Rocky River Public Library, a nonprofit organization founded in 1971, provides financial support and volunteer services to the library. Through membership dues and fundraising activities, the Friends make possible programs and services, furniture, and equipment purchases that the library could not otherwise afford. The Friends enhance the library's ability to serve children, teens, families, seniors, and the whole community.
Everyone is welcome to join the Friends of the Rocky River Public Library: individuals, families, businesses, and organizations who value the library as a community asset.
For more information on the Friends of the Rocky River Public Library, including a downloadable/printable membership form click here or contact them at friendsrrpl@gmail.com.
WHAT'S NEW?
FRIENDS MEMBERSHIP MADE EASIER
Interested in becoming a Friend of the Library or renewing your Friends membership? Now it's easier than ever!
Drop a completed membership form in the new blue Friends Mailbox in the Library lobby (make check out to Friends of RRPL, Inc.) or join online by scanning the QR code below and pay by credit card.
THANK YOU, CORPORATE SPONSORS!
Our success is directly linked to the vision and generosity of the corporate community. We are grateful for the support of our corporation sponsors:
Charles P. Canepa, D.D.S., M.S
Aileen FitzGerald, Realtor, Howard Hanna
Gregg Wasilko Group, Realtors, Howard Hanna
Deb and Dave Furry, Northern Title Agency
Corrigan Krause CPAs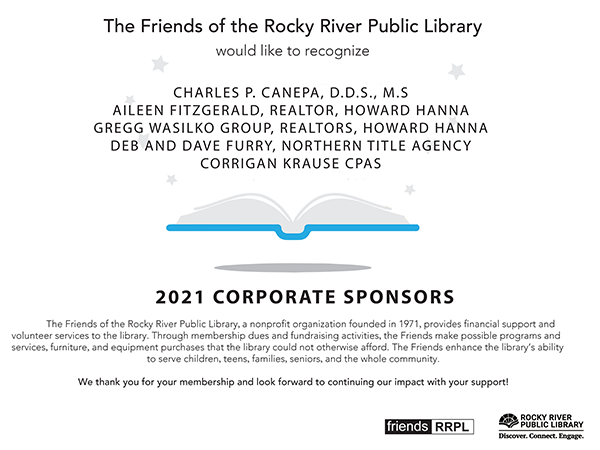 SUPPORT THE FRIENDS

AmazonSmile is a simple and automatic way to support the Friends of RRPL at no extra cost. Shop today, you'll find the exact same vast selections and convenient shopping experience as Amazon.com, with the added bonus that Amazon will donate 0.5% of your eligible purchase to the Friends of RRPL.

PROGRAMS & EVENTS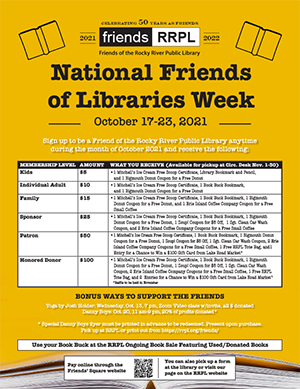 National Friends of the Library Week
October 17 – 23, 2021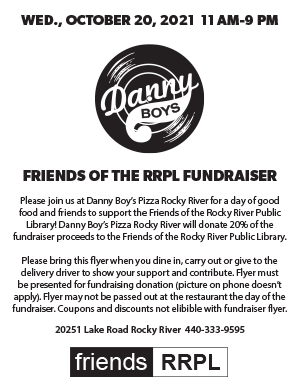 Danny Boys Fundraiser
October 20, 2021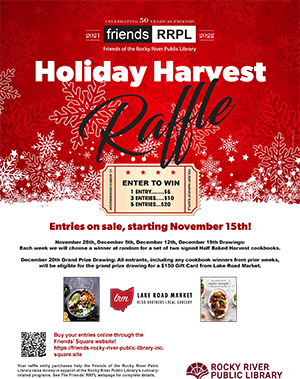 Holiday Harvest Raffle
Entries on sale, starting November 15th!

Friends Newsletter
Summer 2021 Newsletter

In The News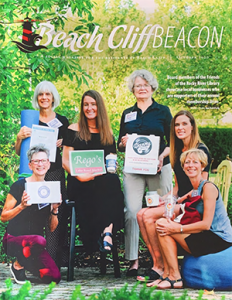 – View Details – 
FOLLOW US:
FRIENDS OF THE ROCKY RIVER PUBLIC LIBRARY, INC GOVERNING BOARD
If you are interested in volunteering for a board position, committee, or assist with any of our events please contact the
Library Administration Department at 440-333- 7610 for additional information.
2021-2022
ELECTED OFFICERS:
President
Vice President
Treasurer
Recording Secretary
Membership Manager
Members at Large
Sharon Fruchey
John Hill
Peggy Cawley
Patty McKenna
Brittin Barkley
Kate Leslie; Craig Rimlinger
COMMITTEES:
Corporate Sponsorship
Event Support
Marketing / Media Outreach
Newsletter
Sarah Siebert
Jenny Dieringer
Julie Drellishak
Stacie Gerrity
LIBRARY STAFF
Director
Administrative Specialist
Jamie Mason
Krista Carte
MEMBERSHIP

With your membership, you can help:
Sponsor the library's adult program series
Provide storytellers, crafts, activities, and summer reading programs to children
Keep teens involved through programs and the Teen Advisory Board
Get a free Mitchell's Ice Cream scoop certificate at the Greeters desk in the lobby when you join (or renew) your Friends membership.
The Friends meet the second Tuesday each month, with the Annual Meeting being held in June.  All members are welcome to join the meetings at the library.
Please call the library for time, library location, and any changes at (440) 333-7610.