ABOUT
The Friends of the Rocky River Public Library, a nonprofit organization founded in 1971, provides financial support and volunteer services to the library. Through membership dues and fundraising activities, the Friends make possible programs and services, furniture, and equipment purchases that the library could not otherwise afford. The Friends enhance the library's ability to serve children, teens, families, seniors, and the whole community.
Everyone is welcome to join the Friends of the Rocky River Public Library: individuals, families, businesses, and organizations who value the library as a community asset.
For more information on the Friends of the Rocky River Public Library, including a downloadable/printable membership form click here or contact them at .
WHAT'S NEW?
Joining the Friends is a terrific way to give back to our community, and to make the library even better. Friends automatically receive 10% off all fines at the checkout and a one-year subscription to the Friends' newsletter.
THANK YOU, CORPORATE SPONSORS!
Our success is directly linked to the vision and generosity of the corporate community. We are grateful for the support of our corporation sponsors:
Charles P. Canepa, D.D.S., M.S
Aileen FitzGerald, Realtor, Howard Hanna
Gregg Wasilko Group, Realtors, Howard Hanna
Deb and Dave Furry, Northern Title Agency
Corrigan Krause CPAs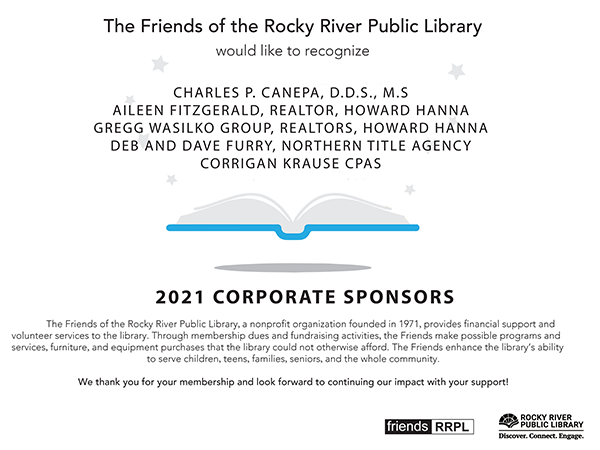 SUPPORT THE FRIENDS

AmazonSmile is a simple and automtic way to support the Friends of RRPL at no extra cost. Shop today, you'll find the exact same vast selections and convenient shopping experience as Amazon.com, with the added bonus that Amazon will donate 0.5% of your eligible purchase to the Friends of RRPL.

FRIENDS OF THE ROCKY RIVER PUBLIC LIBRARY, INC GOVERNING BOARD
If you are interested in volunteering for a board position, committee, or assist with any of our events please contact the
Library Administration Department at 440-333- 7610 for additional information.
Friends of the Rocky River Public Library
Bylaws (08/2020)
2020-2021
ELECTED OFFICERS:
President
Vice President
Recording Secretary
Corresponding Secretary
Treasurer
Members at Large
Sharon Fruchey
Denise Wheeler
Patty McKenna
Brittin Barkley
Peggy Cawley
Kate Leslie; Craig Rimlinger
COMMITTEES:
General Membership
Business Membership
Event Support
Media Outreach
Newsletter
Brittin Barkley
Sarah Siebert
Jenny Dieringer
Julie Drellishak
Stacie Gerrity
LIBRARY STAFF
Director
Deputy Director
Jamie Mason
Trent Ross
MEMBERSHIP
With your membership, you can help:
Sponsor the library's adult program series
Provide storytellers, crafts, activities and summer reading programs to children
Keep teens involved through programs and the Teen Advisory Board
You will also receive the newsletter twice a year and receive 10% off fines for Rocky River Public Library items. Get a free Mitchell's Ice Cream scoop certificate at the Greeters desk in the lobby when you join (or renew) your Friends membership.
LIBRARY PROGRAMS

One of the main objectives of the Friends is to support programs and initiatives of the library. Many of the programs for Children, Teens and Adults offered throughout the year for education and enjoyment are full or partially funded by our group. We hope that you and your family have enjoyed many of them in the past and will begin or continue to do so this coming year. Below is a list of some of the programs that the Friends have supported in the past. Be sure to look for the Friends logo next to supported programs in your issue of the Inside View.
Children's Programs
Teen Programs
Outside Facilitators/Performers
App Chat
Art Room
Book Discussion Groups
Cool Crafting
Get in the Game
Gingerbread House
Guild of Brick
Guys Create: Gross Me Out
Holiday Cra6 Festival
Movie Mondays
Parent Child events
R.E.A.D with a Dog
Reading Partners
Summer Reading Program
Tween and Teen Event
Tween Crafts and Craft Creations
Volunteer Youth Crews
Teen Advisory Board
Teen Summer Reading
Teen Craft Programs
National Comic Book Day
Yoga Program
Catching Fire
Teen Pizza PagersAdult ProgramsTune in Thursday
Chef's Secret/ Dessert
An Evening with the Arts
Friends helping at the RRPL
Book Festival.
French/Spanish Language
Mrs. K Science
Create A Book with Laurie Lazzaro Knowlton
Nancy Sander
Terry Sullivan (Jungle Terry)
Magician
Balloon Artist
Summer Theme Event

Shayna McCauley, winner of
the Friend's fund raising raffle shows her
prize Caroline, an American Girl Doll.

Reader Advisory Programs/Other

Summer reading prizes
for Adult Summer Reading Program
Art- inspired Book Discussion
Adult and Men's Book Club Refreshments
The Friends meet the first Tuesday of the month September through June with the Annual Meeting in June.  All members are welcome to join the meetings at the library.
Please call the library for time, library location and any changes at (440) 333-7610.