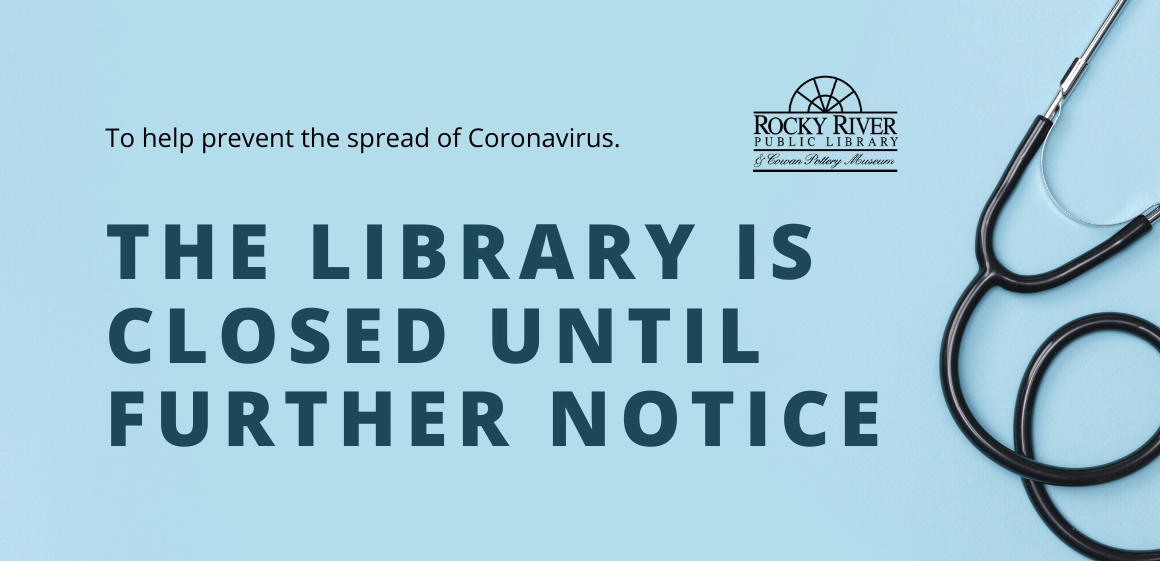 Director's Message
Curbside Service begins Monday, May 18
Tuesday, May 12, 2020
Valued Patrons,      
As we all continue to navigate these unconventional times, we are trying a new option for service at the Library. Starting Monday, May 18th, we will begin curbside service for material pickup. We will be open for curbside service only Monday through Friday from 11:00 am until 7:00 pm. You can call the Library at 440-333-7610, visit the website at www.rrpl.org, or use the CLEVNET App on your smartphone to place items on hold.
After you receive a notification that your items are ready to be picked up via phone, email, or text, you can come to the Library and park in any numbered space. Call us at 440-333-7610, give us your name, and the number of the space you are parked in and we will bring your materials out to you.
Please continue to return all materials to the book drop. Staff will not be able to take materials from you to prevent any type of potential cross-contamination of materials. All materials that will be circulated to patrons have been through a minimum of a 72-hour quarantine to ensure they are virus-free.
We ask for your patience as we cannot anticipate wait times at this point. A walk-up queue will also be available if you wish to walk to the Library to pick up your holds. All services are first-come, first-serve.
We are continuing to evaluate our building, assess our programming, and review the various requirements and recommendations from Governor Mike Dewine. We will open the building when we feel it is safe for both the Staff and Patrons. But, at this point, our spaces do not allow us to effectively keep social distancing guidelines.  Please stay tuned for updates as we have them.
Please remember these steps:
Receive a holds available notification
Upon arrival at the Library, notice your parking space number
Call 440-333-7610 with your name and number
Receive your items from a staff member
Return your current items in the Book drop
Jamie L. Mason
Director
Director's Message
Library Will Close Due to COVID-19
Friday, March 13, 2020

Valued Patrons:

On Tuesday, Governor DeWine declared a state of emergency in response to the confirmation of three cases of COVID-19 in Cuyahoga County. This was done to create the flexibility his office needs to respond effectively in the coming days.
On Wednesday, the World Health Organization declared the coronavirus outbreak a pandemic. Yesterday, Governor Mike DeWine issued an order prohibiting gatherings in excess of 100 people and ordered Ohio Schools to close for three weeks starting Tuesday, March 17, 2020.
As concerns about COVID-19 grow, we are following the guidance and recommendations of our national, state, and local public health partners – The Centers for Disease Control and Prevention (CDC), Ohio Department of Public Health, the Cuyahoga County Board of Health, and the Governor's Office by taking precautions to make sure our staff and patrons are safe and healthy.  I repeat that the safety of our staff and patrons are our number one concern.  The Ohio Department of Health reports that the virus infection rate doubles every six days.
After careful consideration, we feel that it is best to follow the Governor's order to Ohio Schools.  We will suspend all programs and meetings effective immediately until at least Friday April 3, 2020.  We will close the Library at 9pm on Monday, March 16, 2020 until further notice.  We are encouraging our patrons and staff to remain home to help prevent the spread of COVID-19.
There will be no late fines or fees associated with any materials you have checked out that are returned to RRPL when we reopen. Additionally, all holds on materials for pickup at RRPL will be suspended until after we reopen. Any hold already available for pickup here by the closing date will be extended until we reopen —you will not lose your holds. Be advised that patrons will not be able to place holds on RRPL materials beginning Saturday, March 14, until further notice.  Please do not return items to the book drop as it will also be closed.
We encourage patrons to take advantage of the Library's many digital offerings. From the latest eBooks and eAudiobooks to streaming videos and music, we have rich content from Overdrive, Hoopla, Kanopy, and AcornTV that can be accessed from home. Our online learning platforms, including Lynda.com, Creativebug, and even The Great Courses Library Collection, provide exceptional opportunities to learn or build a new skill.
We appreciate the leadership demonstrated by our Governor, and public health officials in encouraging Ohioans to take precautionary measures to slow the spread of COVID-19. Ohio's coronavirus call center is open to answer questions from 8:00 a.m. to 9:00 p.m. daily. The hotline number is 1-833-4-ASK-ODH or 1-833-427-5634. Information is available at coronavirus.ohio.gov. Please wash your hands!
Jamie L. Mason,
Director
Director's Message
COVID-19 INFORMATION FOR THE PUBLIC
March 11, 2020
Valued Patrons,
Yesterday, Governor DeWine declared a state of emergency in response to the confirmation of three cases of COVID-19 in Cuyahoga County. This was done to create the flexibility his office needs to respond effectively in the coming days.
Today, Governor DeWine and the Ohio Department of Health (ODH) completed their Coronavirus (COVID-19) update. They confirmed a 4th case in the state of Ohio. However, the situation has now changed dramatically as this is the first case of "community spread" which is defined by the Centers for Disease Control and Prevention (CDC) as "spread of an illness for which the source of infection is unknown."
As concerns about COVID-19 grow, we are following the guidance of the Centers for Disease Control and Prevention (CDC) and taking precautions to make sure our staff and customers are safe and healthy.
We have a service called Microshield 360 that uses a process to kill and then protect against bacteria, viruses, and microbes on our surfaces yearly (tables, chairs, and some of our carpeting, especially the Story Time rooms and public meeting rooms where children will regularly sit and play). Our last re-application of that was in November of 2019. The company also tests the surfaces throughout the year to verify it is working.
We have a great Building Services staff that cleans and disinfects daily. They are on premise and are available as needed if issues arise as well. Their cleaners also kill Coronavirus. We have a regular practice to clean and disinfect toys and games in the Children's area weekly and regularly launder the stuffed animals. We will be increasing our cleaning intervals and removing most of those toys/objects except the train table for the time being to help stop any spread of germs.
In addition, our Emergency Planning Team met earlier today to review our various policies and procedures as well as the CDC guidelines to recommend changes or point out any areas we may have missed.
We are paying extra attention to high-touch surfaces like door handles and light switches. We treated the keyboards and mice in our Computer Center and Training Labs with the Microshield360 and have Clorox wipes available for the public to wipe down equipment before using.
I think the message to "Wash Your Hands" has been ingrained in all of us at this point, but we have added increased signage encouraging proper hand washing techniques throughout our restrooms. We have ordered additional supplies of hand soap as well, because of the increased usage.
We encourage customers to wash their hands immediately upon entering the Library (or use hand sanitizer) and again after using Library computers or any other high-touch surfaces.
At this time, we plan to maintain our hours of operation and the Library will continue to offer all regularly scheduled events and programs. **Please keep in mind that some programs are offered by outside speakers. They can act upon what they feel is their own best interest and cancel programs. **
We have created a page on our website at https://www.rrpl.org/covid19 that links to official sites from the CDC and the Ohio and Cuyahoga County Departments of Health. We will continue to use this page, our social media platforms, and email updates as needed to keep you informed of any changes to our scheduled events.
We want to reinforce that if you are not feeling well, you should stay home. All residents should implement the personal prevention protection methods used to prevent flu and other infectious diseases as recommended by the CDC:
• Wash hands often with soap and water for at least 20 seconds; dry hands with a clean towel or air-dry hands.
• Use alcohol-based hand sanitizer when soap and water are unavailable.
• Cover your mouth with a tissue or sleeve when sneezing or coughing.
• Avoid touching your eyes, nose, or mouth with unwashed hands.
• Stay home when you are sick.
• Avoid contact with people who are sick.
Jamie L. Mason,
Director
STAY CONNECTED!
Subscribe to receive the latest Library news, updates, and more!